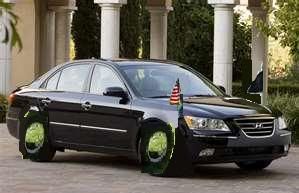 Obama declined the Red Flag limousine service provided by China and stuck to a U.S.-supplied armored limo.
Carried to Beijing on a U.S. Air Force transporter, the presidential limo boasts 8-inch (20cm) thick plates capable of shielding occupants from certain kinds of explosive devices as well as 5-inch bulletproof windows.
While Obama was in a meeting with Xi in the Great Hall of the People, Chinese reporters marveled at the monster vehicle, some taking selfies in front of the car.
Obama also caused a stir for chewing gum while walking alongside Xi. Video footage of this scene was aired by China's state-run TV station, then went viral on the Internet.
It shocked the Chinese blogosphere, familiar with the country's wooden political leaders. Some bloggers called Obama rude, while others speculated that the U.S. president was just trying to relax.
http://asia.nikkei.com/Politics-Economy/International-Relations/US-president-s-armored-car-and-gum-chewing-drew-lots-of-attention-in-China